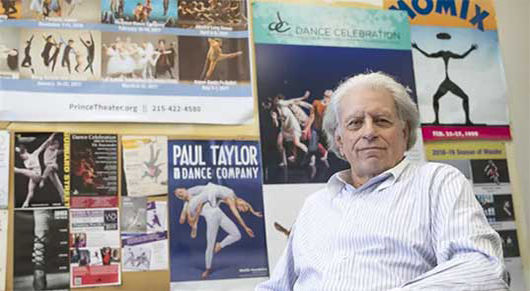 Randy Swartz Takes a Final Bow
Randy Swartz takes a final bow on his presenting career – one which had a massive impact on the world of American dance, and one you might have never heard of. A decades-long involvement in dance programming, as well as running  Stagestep, the oldest and largest dance floor company in the United States, undoubtedly touched the lives and careers of thousands of dancers nationwide.
To hear Swartz tell his story, it was all a happy accident. His own dance dreams ended early, when he stopped tapping as a child. He hasn't been in a dance class since then, some 60+ years ago. But his knowledge of dance runs deep, his advocacy strong, and his company devoted to the safe practice and performance of dance is a leader in dance flooring.
Swartz got a job as the executive director at the Walnut Street Theatre in Philadelphia, in the early 1970s. Backed by funding from the National Endowment for the Arts, he was tasked with building a season from a list of 18 companies.
Swartz recalls, "My very first season of presenting was Paul Taylor (with Mr. Taylor still dancing with the company),  Alvin Ailey (Alvin was right there with Judith Jamison as his lead dancer), a new company called Dance Theatre of Harlem (with Arthur Mitchell up front there), José Limón (who passed on later that year but was in the theater), Alwin Nikolais…and then there was Martha Graham. This was all the first season!"
Many seasons are on, and Swartz has seen it all. He calls it the dance bug.
"When you are involved in it and when you participate in it, it sort of stays with you forever," he says.
Moving forward, he'll be seeing it all from two special, permanent seats with his name on them at the Annenberg Center, a gift honoring his years of service to the art form in Philadelphia. After 50 years, it was time to let it go.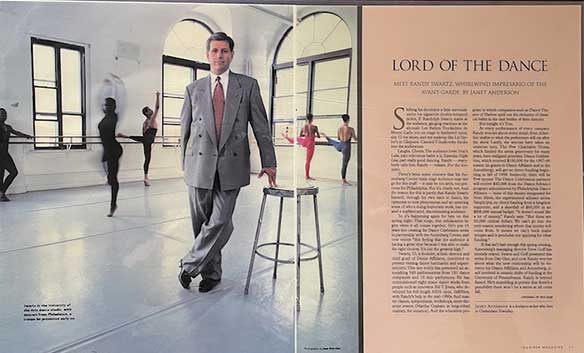 "Being a dance presenter, starting back in 1971 makes me a gatekeeper," Swartz says. "I get to pick and choose. After awhile, you get to the point where there has to be other voices and new thoughts. I try to keep up with it all, but if you want to do right by it, you've got to hang it up. It's been a rewarding career. Not many people know or understand what a dance presenter is."
Even though Swartz says his long career was part dumb luck, part good timing and part general curiosity, there's something more that allowed him to do the work he did so long with such success.
"We had relationships; the audience had relationships," he says. "That's the job of a dance presenter. To bring the audience into the theater in some way, shape or form that will allow them to relate to what the companies do."
If the impermanence of watching dance leaves a permanent mark that fosters new ways of thinking, we have Swartz to thank for clearing the way for so many audiences and dancers to have that shared experience.
By Emily Sarkissian of Dance Informa.