SpringFlex Dance Subfloor
Looking for a permanent, safe subfloor for hardwood or vinyl dance floors? Springflex is a professional floating wood subfloor that is manufactured for durability and safety, and is suitable for all dance styles.
What Is SpringFlex?
SpringFlex is a floating wood permanent subfloor with excellent sound amplification, resiliency and absorption levels. The SpringFlex subfloor uses a pre-manufactured state-of-the-art basket weave style system. It is made with cross-laminated birch and recycled rubber for the best energy absorption. It can be combined with plywood (supplied by the customer) and any of our rollout marely floors or tongue and groove hardwood–available pre-finished in maple or oak. SpringFlex is best installed by a professional.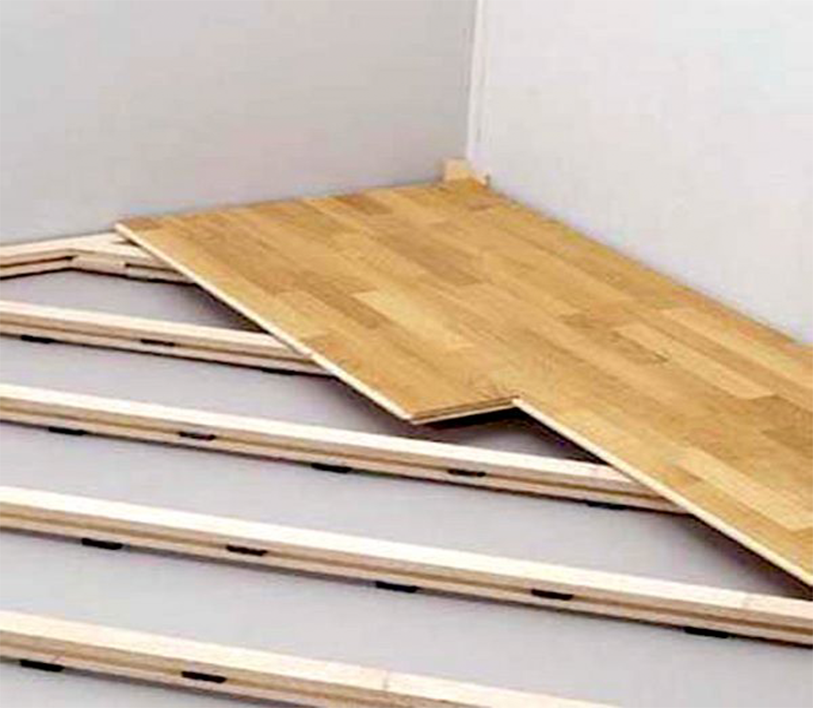 Dance Type
The energy absorption, support and resiliency of SpringFlex make it an ideal choice for all dance styles, specifically including:
• Folk
•Multipurpose dance
•Character
•Ballet
•Modern
•Theater
•Ethnic
•Jazz
•Tap
•Ballroom
•Break Dance
SpringFlex Dance Subfloor
If you're wondering whether the SpringFlex subfloor system is the best option for your dance studio, consider these factors.
Safety
Absorption of Energy
The basketweave form of the SpringFlex subfloor has shock-absorbent characteristics that keep dancers safe. This floating subfloor takes up some of the energy that would otherwise return to the dancer's body, possibly causing harm.
Lateral Foot Support
SpringFlex is used with area-elastic floors, which means the energy is absorbed and dispersed over a wide surface area to protect dancers. While the subfloor absorbs energy, it also provides adequate support to promote the floor's stability. SpringFlex is most often used with wood dance floors for permanent installations.
Resilient Energy
The SpringFlex subfloor has ideal resiliency levels for various dances, which means that it returns the deflected energy through a springing motion. The spring helps propel dancers into jumps and leaps.
Springflex System
The SpringFlex system is used with area-elastic floors with 51 to 71% shock absorption for active movements since its 45-degree installation equally distributes energy. The construction height is 75 to 77 millimeters, which is around 3 inches. SpringFlex meets or exceeds the German Institute of Standardization (DIN-V) 18032.2 requirements for sport surfaces, the common standard in the United States.
(depends on size, configuration of space) Approximately $5 per square foot. $27 per beam
Finish/Surface: Use your supplied plywood with a Stagestep roll-out floor or hardwood.
One year against manufacturer defects
Area-elastic floors offering from 51 to 71% shock absorption
Meets or exceeds DIN-V 18032.2 requirements
Construction height is only 75 – 77 mm (3″)
45° installation, which equally distributes energy
* Prices vary as to size and configuration of space.
Prices and discounts are in U.S. Dollars and are subject to change without notice. Prices do not include shipping and handling. Contact Local Stagestep™ representative for pricing in all foreign currencies.
SpringFlex Sleeper System Vinyl WB and Threshold Detail
SpringFlex Sleeper System Hardwood WB and Threshold Detail
Order Your SpringFlex Subfloor Today
Stagestep has more than 50 years of experience with quality subfloors for performance art centers, commercial dance studios and schools. Our SpringFlex subfloor system offers unmatched value in craftsmanship and price, which is why it's used in many studios in the United States. Our free shipping sends out the SpringFlex subfloor within 48 to 72 hours for quick delivery.
Request a quote today or contact us through our online form or by phone at 800-523-0960.