SpringStep V Dance Subfloor
Stagestep™ has many floating wood subfloor solutions, from SpringFlex™ to the SpringStep™ collection, each varying in qualities like resiliency and absorbency to protect dancers from motion impact. SpringStep V is our newest and most durable dance subfloor system for all theater and dance activities.
What Is SpringStep V?
SpringStep V is one of the options in Stagestep's SpringStep collection, which has multipurpose floating wood subfloors for several dance styles and purposes. These subfloors improve safety and performance, use eco-friendly materials and are priced cost-effectively.
SpringStep V is made of durable materials and is designed to be a portable subfloor solution for touring where a dance floor needs to be assembled and disassembled on a weekly basis. Its qualities make it applicable for all dance styles.
Dance Styles
Stagestep recommends the SpringStep V floating subfloor for these dance styles:
• Multipurpose dance
• Jazz
• Ballet
• Ethnic
• Tap
• Modern
• Folk
Is SpringStep V Right for You?
Consider these qualities when deciding if the SpringStep V subfloor system is best for you.
Portability
SpringStep V is a moveable subfloor that can be easily disassembled, transported and reassembled in a new location. For touring shows and dancers on the road, this feature is valuable because it allows dancers to have a safe, resilient, and absorbent dance floor in every venue.
Durability
The SpringStep V subfloor system panels are made to withstand damage during transportation and active movements, which ensures the subfloor lasts.
Sound Amplification
Certain dance styles, such as tap, rely on generating sound as part of their style. The SpringStep V subfloor is excellent at amplifying sound, ensuring each step and glide is audible.
SpringStep V is a multi-purpose floating wood subfloor that has an integrated foam underlayment. The panels are made from Baltic birch. When assembled, these panels have tight seams and create acoustically vibrant sounds. Besides full panels, this dance subfloor system is available in half panels, groove edges, tongue edges, wing edges and wing ramps. All subfloor system pieces are custom made to each order, as is the transporter to move the panels.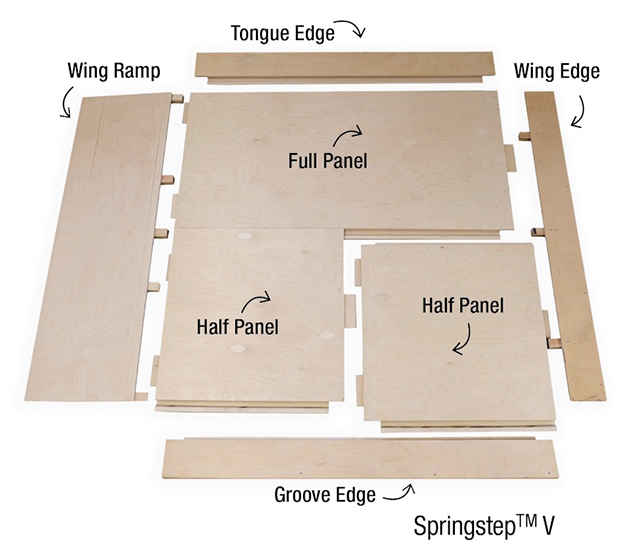 Installing Your Subfloor
The SpringStep collection, including SpringStep V, can be self-installed. The panels use Stagestep's patented snap-together tongue and groove construction that is easy to put together for semi-permanent stages. SpringStep V is easy to disassemble for touring companies or other mobile performances since the setup does not require hardware, patching, screws or sanding. Use our online installation guide and phone support to install the SpringStep V floating subfloor yourself, or use one of our preferred contractors.
Request a Quote for Your SpringStep III Subfloor copy
Stagestep manufactures subfloor systems for dance studios that are quality-made, cost-effective and easy to install. We have more than 50 years of industry experience in offering excellent products that promote dancers' performance and safety. Once your custom-made floating subfloor is ready, it typically ships within 48 to 72 hours. Request a quote for your SpringStep V dance subfloor or learn more by completing our contact form or calling 800-523-0960 today.