Springstep II Dance Subfloor
A floating wood subfloor must support the main dance floor while providing enough absorption to protect the dancer's body from impact. Subfloors from Stagestep provide a safe, shock-absorbent environment for various movement activities. Springstep II is a cost-saving, do-it-yourself floating subfloor option from Stagestep.
What Is Springstep II?
Springstep II is one of five options in our SpringStep collection, which has multipurpose floating wood subfloors for many dance styles. Springstep II is a cost-effective dance subfloor solution, because it is made for self-installation. If you can spend the time to install this floating subfloor yourself, you can save on expensive professional installation. Springstep II also enhances dancers' safety during movements like floor work, leaps and jumps.
Springstep II is a floating subfloor that provides good sound amplification, absorbency and resiliency. Its mid-range capabilities make this subfloor good for many dance uses.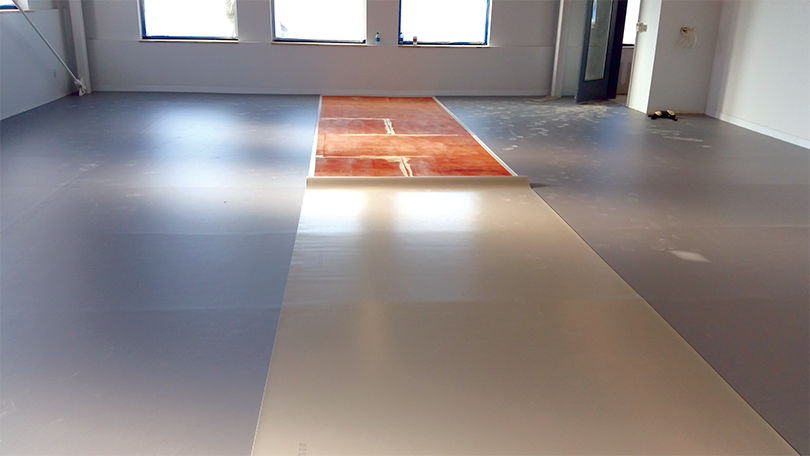 Dance Styles
Stagestep recommends the SpringStep II dance subfloor for a variety of dance styles:
• Modern
• Hip-hop
• Ethnic
• Character
• Multipurpose dance
• Tap
• Folk
• Ballet
• Jazz
• Theater
Is Springstep II Right for You?
Consider these factors when deciding if Springstep II is right for your dance studio.= Sound Amplification Certain dance styles require a dance subfloor that does not muffle sounds. Tap dancing, for example, makes noise with time steps and wing movements. SpringStep II will amplify the room's sound levels so dancers can hear the sounds essential to their dance style. Resiliency A resilient subfloor deflects energy from active movements and returns it to the dancer in a springing motion, helping them jump and leap. SpringStep II has excellent resiliency ratings among the dance subfloors at Stagestep.
Specifications
SpringstepTM II—Build It Yourself Resilient floating wood subfloor that comes 2 3/4″ (74.6 mm) or 1 3/4″ (43.9 mm) off the slab. Will amplify sound levels in the room. Ideal for all dance styles. SpringstepTM II consists of 2 layers of 1/2″ (12.70 mm) underlayment grade plywood resting on two-inch resilient foam cubes (100 cubes per 4′ x 8′) or 3″ x 3″ x 3/4″ nominal high foam blocks (52 per 4′ x 8′). Requires 1 inch deck screws to be counter-sunk and filled. Stagestep® provides only the foam blocks, plus all the instructions and phone support you need.
Installing Your Subfloor
SpringStep II provides only the foam blocks. While you can use it with a permanent floor, SpringStep II is also transportable if needed to be moved. Stagestep offers phone support and an online installation guide for assistance.
Install a Dance Subfloor From Stagestep Today
Stagestep is a floating wood subfloor and marley floor manufacturer, with more than 50 years of experience in the industry. Most dance subfloor orders ship within 48 hours, and the SpringStep II subfloor is easy to install yourself. This subfloor option is ideal for various styles of dance and studio locations and will improve dancers' experience and safety. Request a quote online for your SpringStep II floating subfloor. You can also contact us online or by phone at 800-523-0960 for more information.