Pulse Flooring
New! Pulse flooring is the ulitmate studio floor. Manufactured in France, and used by professional companies around the world, this high performance floor is especially designed for ballet, contemporary, and jazz. Pulse has been put to the test by some of the world's elite companies.
Manufactured at our company's own plant in France, this flexible multi-layer floor is ideally suited for studio, touring and stage. Pulse is a flexible, slightly foam-backed four layer flooring that is non-slip and non-reflective. An internal fiberglass grid insures better lie flat. The key to Pulse is that the surface is supportive, slightly absorptive, and the perfect combination of consistency and give that provides a virtual security blanket for the dancer.
Available in grey, dark grey and black, Pulse comes in custom cut lengths up to 65′ lengths. The rolls are 4.92 feet wide (1.5 meters) for easy handling. Pulse is excellent for baller, pointe work, good for contemporary, modern , jazz, and lyrical dance.
*Sound reduction produces less than performance quality results for percussive dance

At a Glance
• Heavy-duty
• Excellent for professional and home use
• Easy install
• Non-slip
"One of the best investments a studio owner can make for their dancers is quality flooring with injury preventing elements. The safety and longevity of the ICON dancers is most important to us, and there is no better choice than Stagestep flooring."
GEO Hubela
Dancer, Master Teacher, Choreographer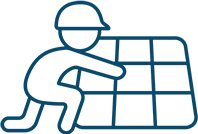 Installation
Product can be installed directly on concrete, a stage or hardwood surface—temporarily, semi-permanently, or permanently—using top tape,, Double-Faced Tape, 4″ Installation Tape, adhesive, or ReUseIt.

Maintenance
Sweep daily to remove coarse dirt. Clean weekly, using ProClean, a neutral detergent/degreaser that does not leave a residue. Stagestep™ offers a choice of non-slip products and FloorCare systems. For surface protection, we offer FloorShield Finish.
Warnings: Do not use alcohol, ammonia, acetone, bleach, or solvents to clean surface. Consult with Stagestep™ prior to using any product not recommended. Direct exposure to sunlight can cause reduced life expectancy due to UV radiation. Change in temperature and humidity can negatively affect installation and non-slip characteristics.